Closing Out the "Side Business" Phase
As of January 23, building custom watches for Artifice will be my (nearly) full time occupation. I still have some mission critical responsibilities with the company that I have been working for since the early 2000s, but mainly, I will be focused on getting the watches that have been delayed over time, completed and out, catching up on the 1000 or so emails and messages, developing methods for processing batches of blasting and coating more efficiently, and working out the details on designs for cases, dials, and more, that have been knocking around in my head for a long time.
This past year, managing to keep the various balls in the air has proven impossible, at least for me. Too many things slipping through the cracks. Too many watches I have scheduled for assembly, and replied to an email for status update with an ETA, only to discover that a set of hands didn't make it on an order, or somehow the stock of a certain bezel or crystal supply has been depleted. Too many emails I've briefly read in the middle of doing 3 other things, and then realized a month later I never sent the reply I'd been going over in my head. These issues have been compounded by some (non-life-threatening) health problems that have limited my ability to work for periods of time. This resulted in exerting where the most need was at the given moment, and that was usually at the "real life" job. Add in some family members hospitalized, facing more serious health challenges, and more time that I might have been working was diverted to the immediate need. This is not to say that it would have been impossible to avoid the current situation of perpetual behindness (probably not a word) and unresponsiveness, just that it may have been beyond my abilities, despite the fact that I usually feel like I can figure out a way to do anything.
Over the next week, in addition to a couple days with the family in the mountains, I will be going through the orders, looking at inventory, figuring out the things that I don't have, and preparing quoting, social media and email access for the newly minted assistant that will finally be on-board.
Starting 1/23/2018, I will be working through the last 60ish days of email and messaging. As much as I want to get to every message ever sent, at some point, I just have to have a cutoff, or it will never be finished. I will try to get the status updates answered first, though it will probably be brief. If there is a quote request I can do off the top of my head, I'll hit those too, since it will be fairly important to keep a roof over our heads throughout this adaptation period. The goal is to be caught up within 8 weeks to a 12 week backlog, and eventually get back to something resembling a 4 week turnaround on most watches, if not less, within 6 months. It could be before that, but given how things tend to work out….
Year in Review
My immediate response is that 2017 seems like a bit of a disaster, but there have been some victories along the way.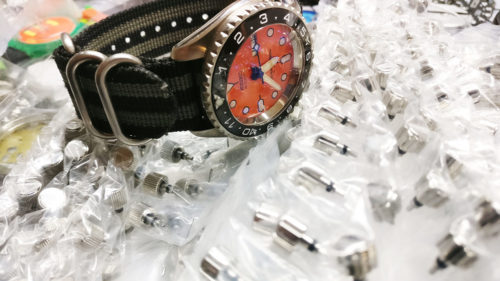 First and foremost, the crowns are finally in. I started redesigning the internals for crowns early in 2016, and had a deposit placed for prototypes by that summer. After having to switch to a different manufacturer, and having to commit quite a bit more per unit, undertaking design revisions, and several sets of prototypes, they are ready to go. There are a few things about the final specs that didn't end up quite how I wanted, and will be changed before the next run (likely sometime in 2019), but overall I am very pleased with the quality of the final product, and can rest easy when I send out a watch that the crown is good to go.
Zero Double Dome sapphire crystals also became a reality, and now I don't have to grind ceramic inserts by hand, shattering about 1 in 3. Although installation can be tricky at best, the finished product is right what what I was hoping for when I first started measuring heights, clearances, etc. and decided to order a small batch.  Manufacturers were not initially interested in producing the design due to a "lack of interest" in ceramic bezel inserts (yeah, this whole ceramic thing will never catch on), so I guess I paid for the development costs on this concept.
Finally, the engraving situation has largely been resolved. The final batch of test case backs came in looking good, and the next phase of testing will be cutting brass and deep engraving aluminum for dials. I expect, having gone through it with the case backs, that there will be several batches needed to get it just right, but I am hoping that Fred, Andrew C., Chad, and some others will be finally taken care of soon. Yep, I thought this phase would be addressed by now, but here we are.
Other Stuff
Test print artwork has been sent to the printer, so those who have custom printing for dial projects like Andrew C., P-F, and H. will be updated shortly.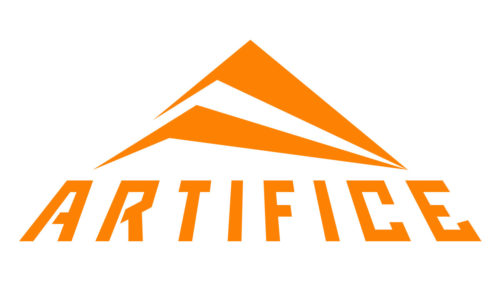 After a bunch of back and forth with myself about it, I have committed to a logo redesign that is a bit more dynamic, and some other branding updates. The negative space doesn't make an A anymore, and HoroWorks isn't featured, but I think the earth will continue on its axis despite the changes. I dropped the latter (from the official logo, at least) because I end up having to spell out "H – O – R – O – W – O – R – K – S" all the time, then explain what horology is. Plus, everybody and their brother has "works" appended to the company name, and I wasn't the first by a long-shot. I'll probably mirror the site at a simpler domain in the future, but that will stay for now.
 I mentioned some parts that I have been working on previously, and one of which will be a refined version of the SKX case.  I hope that I'll have some prototypes in hand by year's end.  This is a much larger investment than the crowns were, so I'll probably run a kickstarter at some point with the first Artifice cases, dials, maybe hands, before jumping in.Notable planned features:

Case will retain the slimline shape, though fractionally larger, and will be compatible with most SKX components, with the possible exception of the chapter ring.
Reduced crown guards
Drilled lugs
Lugs will descend slightly to hug the wrist
Case back will be thinned to lower the case profile height
Lugs will be slightly more angular
Still going back and forth on the side profile and surface finish combination… twisted lugs, or something more like the Stargate and MM300.  I'd like to keep it to something that is relatively easy to refinish down the road once the polished areas have been scratched, and the SKX case is kind of a pain.
300 meter water resistance
A batch of crowns have been sent to the engraver.  After a bunch of designs that I wasn't really happy with, I've settled on an omni-directional compass or sun layout.  These will take the place of the A Logo crowns, so indexing to individual cases is not necessary.
I guess that's about it for now.  I really appreciate the patience that those who have suffered through the last few months have exhibited, and to those who haven't shown so much restraint, well, I don't blame you.  Communication, product output, and all other facets of this endeavor will rise dramatically in the coming year, so I hope you can all bear with me through this process.
Thanks,
Alex